A Little Birdie Told Me…
Whether you are just starting your career or a seasoned professional, #PrintChat is an hour filled with knowledge sharing, networking, and fun.
Quad/Graphics started #PrintChat in January of 2011. After a series of very successful guest hosting spots, PrintMediaCentr (PMC) was handed the reigns in April of 2012. Quad recognized that PMC had the reach, connection and engagement with the online community to take their concept to the next level, and we certainly have.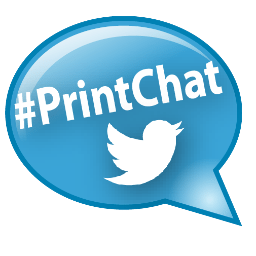 Since #PrintChat has been in our hands, we have grown it into a global happening with participants joining in from Canada, Europe, and Australia and New Zealand where it's early Thursday morning when we begin! We have frequently trended on Twitter during the chat hour, trended in the #1 spot several times, and trended past hashtags such as #superbowl and the new #Pope.
#PrintChat has also been accumulating some impressive stats. Twitter is measured by impressions; the number of people who could see a #PrintChat tweet during the hour, based on the chatters, and the people who follow them, and the people who follow them, and so on.
More chatters, and more chatters with large followings garner bigger impressions, but generally we create 4-6 million impressions each week and reach hundreds of thousands of timelines. We use hash tracking to provide stats after each #PrintChat, and I've included those numbers in our archived chat information.
We also have much success working with companies to provide information on relevant topics. Our #inkjet technology chat, that was co-hosted by @PatMcGrew and @HPGraphicArts, created over 20 MILLION impressions. @XeroxProduction, @kodakidigprint have also successfully co-hosted, as have members of our #printchat community who have specialized knowledge in a subject.
Needless to say #PrintChat is about knowledge sharing, not selling products and services, so our community never has to worry that they are tuning into an hour-long tweetfomercial if we have a guest, or a sponsored chat.
Hope to see you on Wednesday! Here's how…